In the vibrant world of karaoke, the struggle to select a song that resonates with both the singer and the audience often dims the lively atmosphere.
Drake, with his melodic flows and relatable lyrics, consistently emerges as a top pick for enthusiasts seeking to captivate listeners.
Yet, the vastness of his discography can plunge fans into a sea of indecision, stalling the euphoric karaoke momentum.
A meticulously curated list of his best Drake tracks for karaoke not only streamlines song selection but also ensures every performance strikes a chord, marrying the rapper's emotive verses with the raw, unfiltered expressions of the singer.
Best Drake Karaoke Songs (Popular Hits)
1. Hotline Bling
Unveiling a side of Drake that blends melancholy with rhythm, Hotline Bling swiftly became a karaoke favorite. Its catchy, repetitive chorus and smooth melody make it a best Drake song for those seeking a blend of rap and nostalgic R&B.
2. One Dance
A rhythmic masterpiece, One Dance offers a vibrant blend of Afrobeats and dancehall, providing a lively atmosphere in any karaoke setting. It's not just a hit; it's a global anthem that turns any moment into a party.
3. God's Plan
God's Plan isn't merely a song; it's a message, wrapped in melodic rap and benevolent lyrics. The track, which talks about destiny and gratitude, offers a heartfelt performance opportunity for any karaoke night.
4. In My Feelings
With its catchy chorus and viral dance challenge, In My Feelings became an instant hit in the karaoke world. The track offers a playful and interactive performance, ensuring engagement from the audience.
5. Started From The Bottom
Narrating a journey from struggle to success, Started From The Bottom brings an autobiographical lens to the karaoke stage. It's a track that allows performers to reflect on their own journeys while navigating through its rhythmic beats.
6. Hold On, We're Going Home
Elegantly combining R&B with pop, this track is a serenade that many karaoke lovers choose for a smooth performance. Hold On, We're Going Home is not just a song; it's a melodic journey that resonates with many.
7. Take Care
A duet that melds vulnerability with strength, Take Care is a narrative of care and past love. It's a popular Drake karaoke song that allows performers to dive into an emotional and rhythmic duet, exploring themes of love and longing.
8. HYFR (Hell Ya Fucking Right)
Bold and unapologetic, HYFR stands out as a track that blends assertive rap with memorable beats. It's a song that allows karaoke performers to unleash their inner confidence and own the stage with every word.
9. Energy
Energy is a powerhouse of robust beats and assertive lyrics, making it a staple in the rap karaoke scene. The track allows performers to embody Drake's charisma, delivering each line with a potent mix of vigor and rhythm.
10. Headlines
Headlines is not merely a track; it's a statement, a proclamation of success and challenges that Drake has navigated through his career. It provides a canvas for karaoke performers to explore and express their own triumphs and tribulations through its potent lyrics.
11. Worst Behavior
A track that doesn't shy away from expressing frustration and defiance, Worst Behavior is a bold choice for karaoke performers. It allows an exploration of a range of emotions, from anger to resilience, all while keeping the energy high.
12. Passionfruit
Passionfruit, with its soothing melody and heartfelt lyrics, takes the karaoke performer on a journey through the complexities of love and distance. It's a track that, while being melodious, allows a deep dive into emotional expression.
13. Find Your Love
Find Your Love is a melodic plea, a search for connection and understanding in the complex world of romance. It's an easy Drake karaoke song that allows performers to explore a softer, more vulnerable side of rap and R&B.
14. Nice For What
Celebrating strength and independence, Nice For What has become an anthem that lights up any karaoke session. The track, with its empowering lyrics and upbeat melody, turns any performance into a celebration.
15. Too Good
Too Good, a track that explores complicated relationships and misunderstandings, offers a duet that is both lively and emotionally resonant. It's a song that allows performers to navigate through the complexities of relationships while keeping the vibe upbeat and relatable.
16. Controlla
Controlla is a rhythmic delight, blending dancehall vibes with themes of love and desire. This is my favorite song for a karaoke party night. It can turn any karaoke session into a dance party, ensuring that the energy remains high and vibrant.
17. Work
"Work", a collaboration with Rihanna, is not just a song; it's a rhythmic dialogue between two lovers. It is the best Drake karaoke song that allows performers to engage in a playful yet emotionally rich duet, ensuring a captivating performance.
18. Tuesday
Offering a mid-week escape, "Tuesday" is a track that combines leisure with celebration. It's a song that can turn any day of the week into a party, ensuring that the karaoke stage becomes a place of joy and relaxation.
19. Truffle Butter
Truffle Butter, a collaboration with Nicki Minaj and Lil Wayne, brings a playful and cheeky vibe to the karaoke stage.
If you are a rap karaoke fan then go with this song. It's a track that allows performers to explore a lighter, more playful side of rap, ensuring a fun and engaging performance.
20. Forever
Forever stands as an anthem of success and ambition, bringing together powerhouses like Kanye West, Lil Wayne, and Eminem.
It's the best Drake song for karaoke that allows performers to explore themes of success and aspiration, ensuring a powerful and motivating performance.
Best Drake Songs for a Party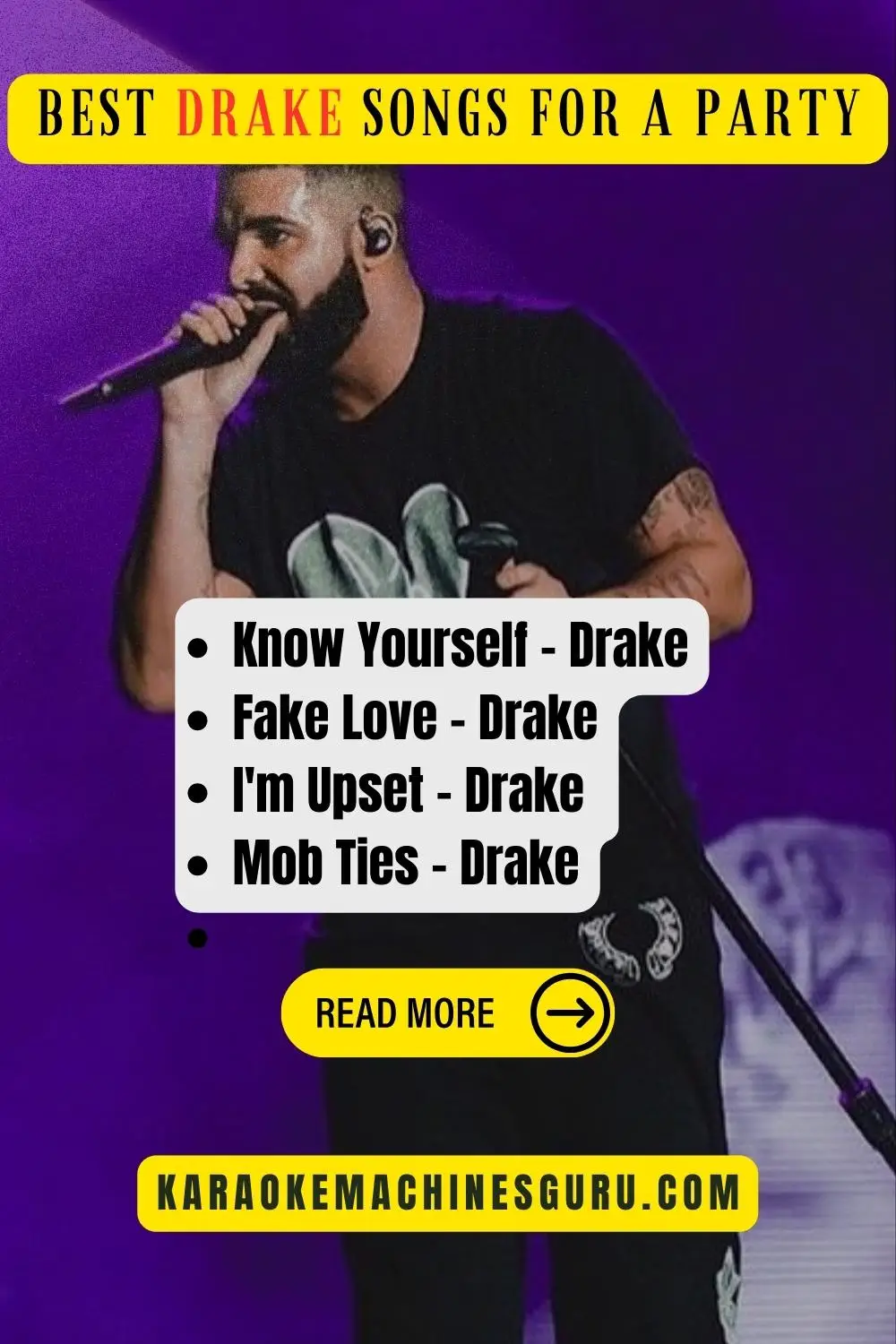 In My Feelings – Drake
Nice For What – Drake
One Dance – Drake (featuring Wizkid and Kyla)
God's Plan – Drake
Nonstop – Drake
0 to 100 / The Catch Up – Drake
Jumpman – Drake and Future
Life Is Good – Future featuring Drake
Laugh Now Cry Later – Drake (featuring Lil Durk)
Money In The Grave – Drake (featuring Rick Ross)
What's Next – Drake
Wants and Needs – Drake (featuring Lil Baby)
Way 2 Sexy – Drake, Future, and Young Thug
Pop Style – Drake
Back to Back – Drake
Started From The Bottom – Drake
Know Yourself – Drake
Fake Love – Drake
I'm Upset – Drake
Mob Ties – Drake
Best Tips for Singing Drake Karaoke Songs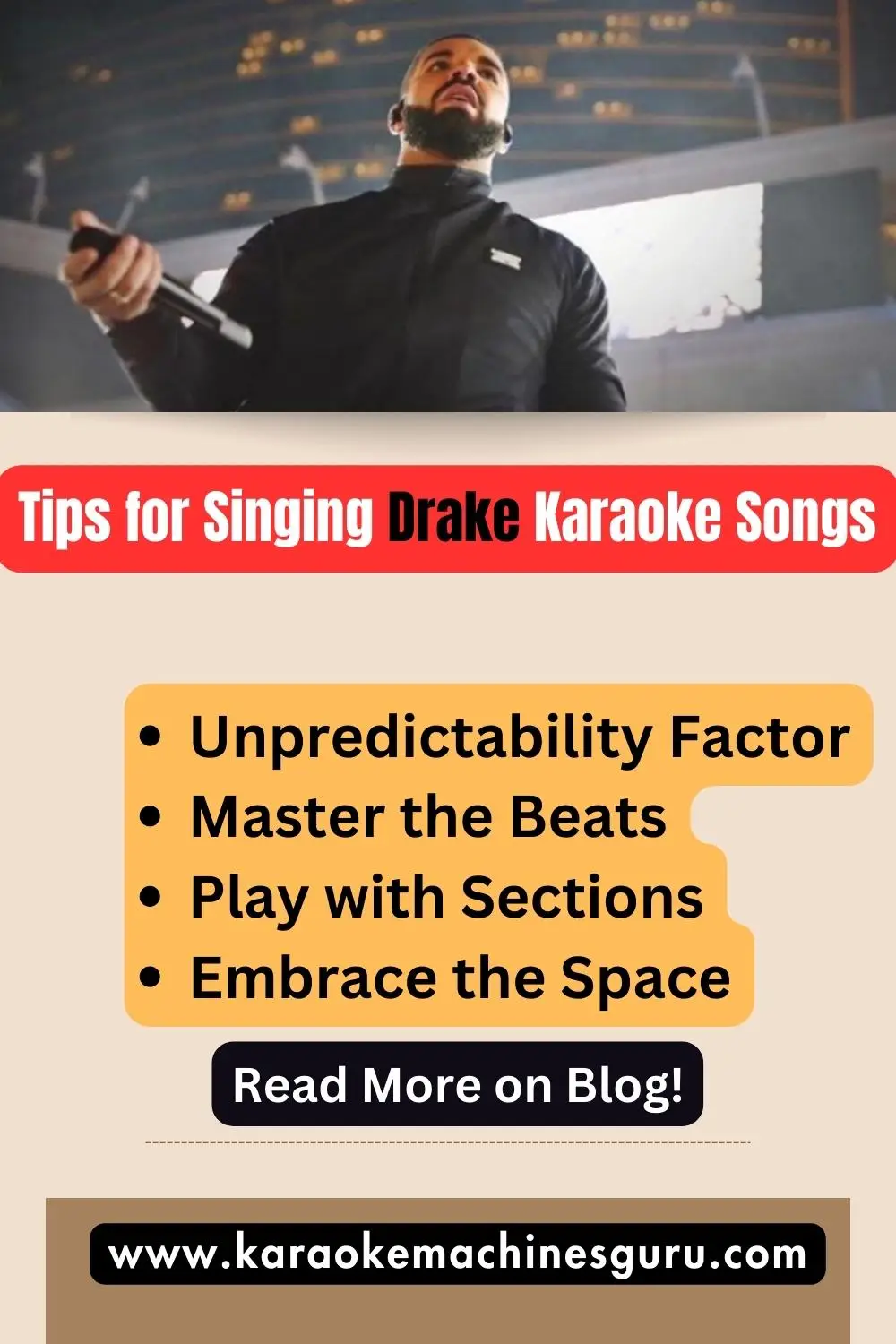 🎤 Feel the Rhythm, Own the Space
Drake masters the art of rhythm and space in his songs. When you're up there, feel the beat and don't be afraid to leave some breathing room in your performance.
It's not just about hitting every word but also about vibing with the melody and letting the music breathe.
🎤 The Unpredictability Factor
Drake's style is somewhat unpredictable. Sometimes he's all about that smooth, chill vibe, and other times he's hitting hard with the rap lines.
When you're doing Drake karaoke, surprise your audience! Switch between mellow singing and energetic rapping to keep things fresh and exciting.
🎤 Master the Beats
Pay attention to the beats per bar. Drake often plays with where he jumps in – whether it's on the first, second, third, or fourth beat.
Practice with different beats and see how you can make the song your own by changing up when you start your lines.
🎤 Play with Sections
Notice how Drake changes his tone and approach with different sections of a song? Try doing the same!
Start off smooth and slow, then hit them with a powerful rap verse. It's all about taking your audience on a journey with you.
🎤 Embrace the Space
Don't be afraid of pauses. Drake often uses them to let the beat build and create anticipation.
Use these moments to engage with your audience, throw in a smile, or simply vibe with the music before jumping back in.
🎤 Switch Up the Flow
Drake often switches his flow mid-song, changing from fast to slow, or vice versa.
Practice different flows and see how you can seamlessly transition between them during your performance.
🎤 Expressive Performance
Drake's songs often carry emotional weight.
Whether it's the nostalgia of "Hotline Bling" or the assertiveness of "Started From the Bottom", embody the emotion of the song in your performance.
Let your body language and facial expressions tell the story too.
🎤 The Melody Magic
Pay attention to the melody, especially in the hooks. Drake's hooks are catchy and memorable.
Make sure to emphasize them and get the crowd involved if you can! A little audience sing-along moment? Yes, please!
🎤 Be Authentically You
While you're singing Drake's songs, don't forget to be yourself.
Add a little personal flair, whether it's in your vocal style, your moves, or how you engage with the audience.
Karaoke is all about having fun and making the song your own.
🎤 Practice, Practice, Practice
And of course, practice makes perfect! Spend some time getting to know the lyrics, the flow, and the rhythm of the song.
Feel confident in your performance and remember: it's all about enjoying the moment.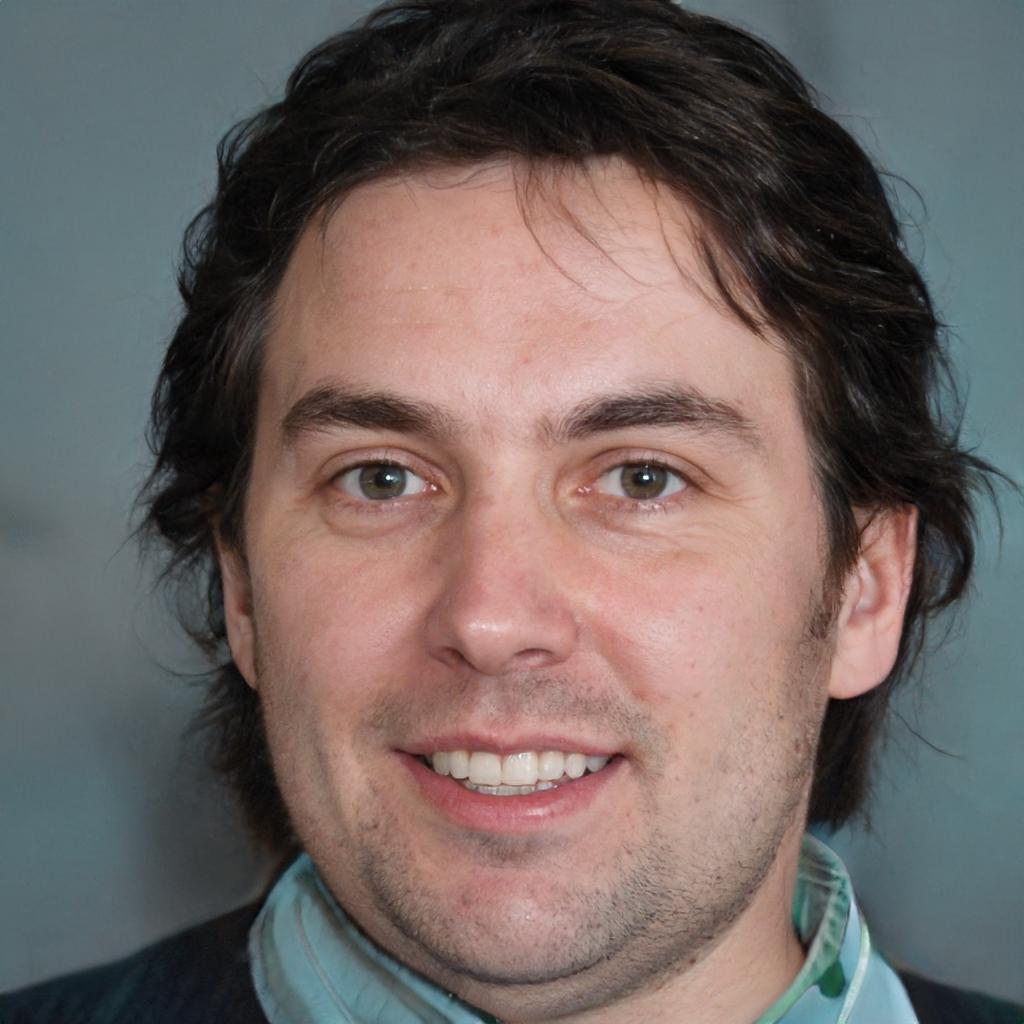 John Smith is the founder and CEO of Karaoke Machines Guru. He is a karaoke tutor and karaoke enthusiast and has been passionate about karaoke since he was a child. He also writes about karaoke-related tips, guides, and product reviews on this website.
He overlooks the whole website and makes sure that everything is running smoothly. Learn more!