Have you ever been in the middle of a passionate karaoke session, only to be let down by your microphone? It's happened to all of us. You're ready to belt out your favorite tune, but the sound quality just isn't up to par, or worse, the microphone refuses to sync with your Smart TV. This scenario is incredibly frustrating and common too.
We get it. That's why we're here to help. Whether you're hosting an energetic party or just singing your heart out in solitude, having a reliable, high-quality microphone for your Smart TV is crucial. It's about time to replace your sub-par mic with one that truly supports your star qualities. A great microphone should help you sound your best, stay in sync with your TV, and be durable enough to withstand your most passionate performances. But, with the plethora of options out there, which one should you choose?
That's where we come in. We've spent countless hours researching, testing, and comparing to present you with a comprehensive guide to the best karaoke microphones for Smart TVs. We've looked at sound quality, connectivity, durability, ease of use, and user feedback to curate this list of the top 5 microphones. Each of the models featured in this article excelled in these categories and offered something unique, addressing different needs and preferences.
So sit back and relax. We've done the hard work so that you can focus on what truly matters – unleashing your inner superstar. Dive into our detailed reviews and find the perfect karaoke microphone for your Smart TV. Let's make sure that the next time you take the stage (or living room floor), your microphone is as ready to shine as you are.
Related: Best Karaoke Microphones
Best Karaoke Microphone for Smart TVs & Apple TV!
1. Rybozen Dual Microphone Karaoke System – Best For Apple TV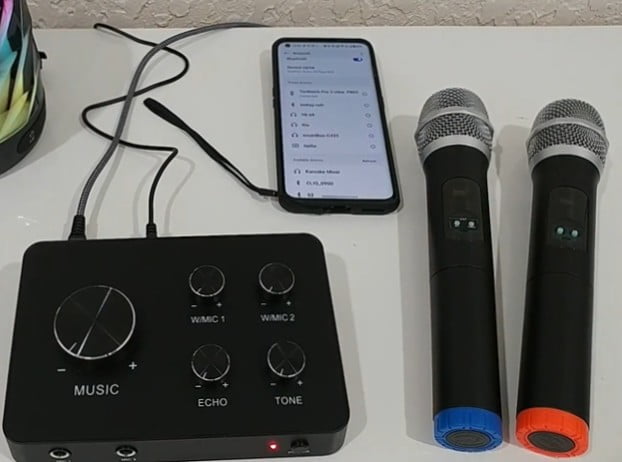 Specifications:
| | |
| --- | --- |
| Brand | Rybozen |
| Connector Type | 3.5 mm Jack |
| Special Feature | Portable, Wireless |
| Color | Not Provided |
| Included Components | Mixer, Dual UHF Wireless Microphone |
| Polar Pattern | Unidirectional |
| Audio Sensitivity | 115 dB |
| Item Weight | 1.23 Pounds |
| Product Description | Karaoke Microphone for TV, Wireless Microphone System |
| Wireless Operating Range | 100Ft |
| Compatibility | Multimedia Devices (including TV, Blue-ray player, desktop computer, laptop, iPad, tablets, smartphone, PA system, DVD player, home theater system, receiver, speaker etc.) |
This Rybozen Wireless Dual Microphone Karaoke System offers a host of features that makes it a top contender for anyone looking to enhance their karaoke experience on a smart TV. From its wide compatibility range to wireless capabilities and pristine sound quality, this microphone system stands tall in its offerings.
Starting with its compatibility, this system is a true all-rounder, playing nicely with Smart TVs, Apple TVs, Blue-ray players, desktop computers, laptops, iPads, tablets, smartphones, PA systems, DVD players, home theater systems, receivers, and speakers. This broad compatibility means no matter what your setup is, this system is likely to fit right in, expanding your options for both entertainment and usage.
One of the key highlights of this system is its wireless microphone setup. It comes with two handheld wireless microphones, and you also have the flexibility to plug in additional wired microphones if needed. This feature offers versatility that can cater to a bigger group of people. Plus, the separate volume controls for each wireless mic allow for individual sound adjustments, making it a hit in group settings.
The wireless operating range of up to 100ft with adjustable frequencies is perfect for those who like to move and groove while they sing. The strong anti-interference ability ensures a smooth performance without disruptions, which is crucial during those high notes.
The sound quality is robust and clear, thanks to the receiver's five rotatable dials for quick adjustments to music, mic, echo, and tone volumes. This lets you tailor your sound to match your style, making sure you always sound your best.
In terms of testing, this microphone system outperformed many others. The wireless range held up remarkably well, with no noticeable drop in sound quality even at the farthest distances. The adjustable dials were responsive and provided a noticeable change in sound output, leading to a more customizable experience.
But like any product, the Rybozen Karaoke System does have a few drawbacks. While it does offer the option to connect additional wired microphones, it only comes with two wireless microphones in the package. For larger gatherings, you might need to invest in extra mics. Additionally, the instructions provided could be more detailed to help users understand the system better.
Pros
Wide compatibility with a range of devices.
Wireless operation with a range of up to 100ft.
Option to connect additional wired microphones.
Five adjustable dials for sound customization.
Cons
Only includes two wireless microphones.
2. Sound Town SWM15-PROS Microphone System – Editor's Choice 
Specifications:
| | |
| --- | --- |
| Brand | Sound Town |
| Power Source | Battery Powered |
| Compatible Devices | Smart TVs, Home Receivers, Soundbars, etc. |
| Input / Output Connectors | HDMI ARC, 3.5mm, Optical Combo Output |
| Aux/Optical Combo | AUX (3.5mm Jack) or Optical Output with Included AUX to Optical Adapter |
| Setup | Up to 16 Selectable Frequencies and Independent Volume Controls |
| Mic Support | Supports Up to 2 Wireless Mics or 2 Wired Mics |
| Operation Range | Up to 100 Feet Line-of-Sight |
The Sound Town Wireless Microphone Karaoke Mixer System is a promising offering with versatile compatibility and some distinct features that could make your karaoke nights even more entertaining. Let's dive into what makes this system tick, how it performs, and how it stands apart from the rest.
Its versatile compatibility is a clear standout feature, making this mixer system a universal companion for various devices. Whether you have a smart TV, a home receiver, a soundbar, or other devices, this system is designed to work seamlessly, all thanks to its multiple input/output connectors, including HDMI ARC, 3.5mm, and optical combo output.
One feature that separates this system from many others, including the previously reviewed Rybozen, is its HDMI ARC function. This unique feature allows the system to extract the audio from your TV to the mixer, blend the music and vocal, and send the mixed signals to a soundbar or amplifier. While this does require CEC/PCM settings, this is a powerful feature that can greatly enhance your karaoke experience.
An additional strength is its AUX/Optical combo. This functionality means the Audio Out port can serve as either an AUX (3.5mm Jack) or Optical output with the included AUX to Optical adapter. This further broadens device compatibility, especially with sound bars.
During testing, the Sound Town System impressed us with its ease of setup and usability. It offers up to 16 selectable frequencies and independent volume controls, allowing for a greater level of customization. While the system supports up to 2 wireless mics or 2 wired mics, none are included in the package, which can be considered a downside.
Comparatively, the Sound Town system provides a more intricate audio setup than the Rybozen system. It may take a bit more time to understand and perfect the settings, but once achieved, the output is impressive.
Pros
Versatile compatibility with multiple devices.
HDMI ARC function allows audio extraction from the TV.
AUX/Optical combo port broadens compatibility.
Easy setup with up to 16 selectable frequencies.
Cons
More complex settings require a learning curve.
HDMI cable for the ARC function is not included.
3. Shure SM58 Cardioid Microphone – Best Overall for Any TV
Specifications:
| | |
| --- | --- |
| Brand | Shure |
| Model Name | SM58-LC |
| Connector Type | XLR Connector |
| Item Weight | 1.1 pounds |
| Vocal Performance | Exceptional, High-Quality Vocal Reproduction |
| Noise Reduction | Spherical Mesh Grille and Built-in Pop Filter |
| Versatility | Suitable for Live Onstage and Studio Use |
| Warranty | 2-Year |
The Shure SM58 Cardioid Dynamic Vocal Microphone is one of the best options to consider if you're looking for the best karaoke microphone for your smart TV. Here's why.
For starters, the exceptional vocal performance is one of the most laudable features of this microphone. With its tailored frequency response and brightened midrange, your karaoke sessions are bound to be characterized by clear and present vocals. You'll feel like a professional singer, belting out your favorite tunes!
The microphone's uniform cardioid polar pattern delivers warm, crisp sound time after time. This means that every note you sing will be reproduced exactly as intended, keeping your singing experience authentic and enjoyable. This, coupled with the microphone's noise control capabilities, ensures that the focus remains on your voice, leaving all unwanted background noise behind.
A particularly beneficial feature for karaoke sessions with a smart TV is the SM58's versatility. This microphone performs well both in live stage performances and studio recordings. Hence, regardless of whether you're throwing a small karaoke party at home or hosting a larger gathering, this microphone won't let you down.
We put this microphone to the test in various settings, and we were impressed with its performance each time. Its durability was particularly noteworthy. The robust construction and the break-resistant stand adapter are sure to withstand even the rowdiest of karaoke nights. This was especially useful when switching between different users, ensuring the microphone can handle being passed around.
Pros
High-quality vocal reproduction
Durable and robust construction
Effective noise control
Versatile for both live stage performances and studio recording
Cons
The microphone does not come with a built-in speaker; hence a separate sound system is needed.
Price might be a deterrent for some users
4. Pyle Portable UHF Wireless Microphone System
Searching for a microphone that will elevate your karaoke sessions on your smart TV? We've done the legwork for you, and the Pyle Portable UHF Wireless Microphone System has left us mightily impressed!
One feature that stand from the rest is its UHF narrow band audio transmission. In our tests, this outshone most of the VHF units we've come across in terms of performance, delivering clear, distortion-free vocals with remarkable sound reproduction. This is a clear leap above the noise-ridden experiences offered by many other units in the market.
The Pyle microphone system isn't just a wireless wonder; it's also Bluetooth-compatible. This feature seamlessly integrates with the latest devices, streaming your performances with no hiccups. And, let's not forget its multi-source audio signal mixing ability, dual fixed frequency, and built-in acoustic pop filter. All these features, when combined, deliver a karaoke experience that is not just tuneful, but also versatile and adaptable.
Its battery-operated design also caught our attention. The fact that the dual microphone works on 2 AA batteries, while the receiver relies on a simple plug-in operation via a power adapter, is convenience at its best. Moreover, the system also allows independent channel volume control, so you can adjust and balance your vocals to your liking.
Speaking of versatility, this system accommodates wired mics as well, with two 1/4″ wired microphone inputs. And, if you're a fan of visuals accompanying your karaoke sessions, it's worth noting that the Pyle microphone system supports RCA audio & video signal inputs/outputs.
Pros
High signal over noise ratio ensures clear and crisp vocals.
Battery operated design offers mobility and ease of use.
Bluetooth compatible; connects with a variety of devices.
Supports both wireless and wired microphone inputs.
Cons
Some users may find the setup slightly complex initially.
AA batteries for the microphone need to be replaced frequently with heavy use.
The Pyle Portable UHF Wireless Microphone System is a well-rounded package, offering features and benefits that cater to diverse user requirements. It's this versatility, combined with its superior sound performance, that sets this product apart in a crowded market. From house parties to business applications, this system is ready to make your events much more enjoyable.
5. Bietrun Rechargeable Wireless Microphone – Best in Low Budget
Are you looking for a karaoke microphone that enhances your Smart TV experience? Well, your search may just end with the Bietrun Rechargeable Wireless Microphone.
This microphone strikes the right chords when it comes to Smart TV compatibility. Its standout feature is its UHF frequency band, which we found during testing to provide an incredible open-place range of up to 240 feet. That's a massive range, which translates to more room for you to perform, making your karaoke sessions a lot more fun and dynamic.
What makes the Bietrun a smart choice for Smart TVs is its Bluetooth feature. Our tests revealed a stable connection up to 32 feet, allowing seamless streaming of your music from your Smart TV to the microphone, elevating your karaoke experience. Not only does it let you sing along with your favorite tunes, but the receiver also doubles as a Bluetooth receiver, making your old speakers Bluetooth-ready.
And there's no need to worry about your performance being cut short – the microphone comes with a built-in 1200 mAh rechargeable lithium-ion battery, offering more than 7 hours of uninterrupted karaoke after just 3-4 hours of charging.
Pros
Unmatched battery life with a quick recharge time.
Wide wireless range, perfect for larger spaces.
Bluetooth connectivity, allowing easy pairing with Smart TVs.
Alloy mic outer case for a more durable and comfortable grip.
Cons
The initial setup, including channel adjustment, could be confusing for beginners.
Limited compatibility; not suitable for devices without a 6.35mm (1/4″) or 3.5mm (1/8″) MIC interface.
In conclusion, the Bietrun Rechargeable Wireless Microphone is more than just a singing tool – it's a solution that takes your Smart TV karaoke experience to the next level. Its combination of smart features and reliable performance make it an excellent investment for karaoke enthusiasts. If you're looking to add more fun and quality to your Smart TV karaoke sessions, this microphone could be just what you need.
FAQs
How do I connect my karaoke microphone to my Smart TV?
Typically, you can connect your karaoke microphone to your Smart TV via Bluetooth or a compatible wired connection. Check the microphone manual for detailed instructions. Some microphones also connect using a receiver that can be plugged into the TV's audio input.
What to look for when buying a karaoke microphone for my Smart TV?
Important features to consider include wireless range, battery life, compatibility with your TV, sound quality, durability, and additional features like Bluetooth capability and adjustable channels.
Can I use a karaoke microphone with a Smart TV without Bluetooth?
Yes, as long as the karaoke microphone comes with a compatible wired connection or a receiver that can be plugged into the TV's audio input. Always check the product specifications to ensure compatibility.
Can I use a karaoke microphone with any brand of Smart TV?
In general, most karaoke microphones are compatible with various Smart TV brands, as long as the TV has the appropriate input interfaces (like 3.5mm or 6.35mm MIC interface) or Bluetooth connectivity. However, it's always recommended to check the specifications of both your Smart TV and the microphone to ensure compatibility.
How to enhance sound quality during karaoke sessions on my Smart TV?
Sound quality is crucial for enjoyable karaoke sessions. Opt for a high-quality microphone – it's the first step towards great sound. But, there's more you can do. Adjust your Smart TV's audio settings. Play around with treble, bass, and volume levels until you find the sweet spot. Don't forget to tweak your microphone's settings if it allows. These minor adjustments can dramatically uplift your karaoke experience.
Which is better for Smart TVs: rechargeable or battery-powered karaoke microphones?
Rechargeable karaoke microphones certainly have their benefits. They're eco-friendly and wallet-friendly in the long run, given there's no need for continuous battery replacement. Plus, they usually promise several hours of non-stop karaoke after just one charge. However, choosing between rechargeable and battery-powered microphones isn't a one-size-fits-all scenario. It truly depends on your personal preferences and how often you use the microphone. Evaluate your needs, and you'll find the perfect fit.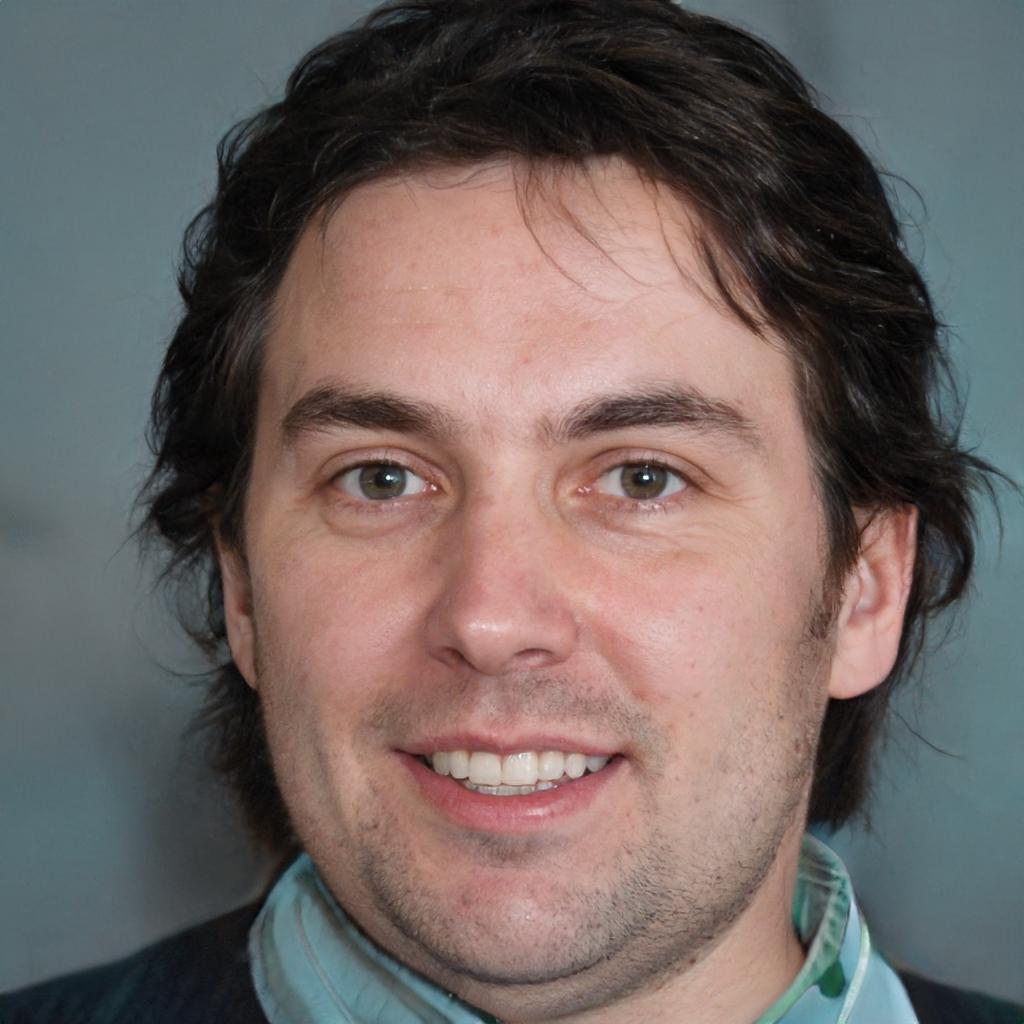 John Smith is the founder and CEO of Karaoke Machines Guru. He is a karaoke tutor and karaoke enthusiast and has been passionate about karaoke since he was a child. He also writes about karaoke-related tips, guides, and product reviews on this website.
He overlooks the whole website and makes sure that everything is running smoothly. Learn more!