A perfect karaoke mixer serves as the backbone of your karaoke setup, seamlessly blending vocals with background music, and providing the kind of sound quality that can turn your living room into a mini concert hall.
However, with a deluge of options on the market, each claiming to be the best, choosing the perfect karaoke mixer can be an uphill task. That's precisely why I've put together this article. With my own experiences, trials, and tribulations as a guide, I'll help you navigate this seemingly complex world, making it simple and relatable for you.
Over the course of this article, we'll delve into detailed reviews of the top karaoke mixers available, discuss a buying guide to help you identify your needs and match them with the right product, and finally, answer some frequently asked questions that might pop up during your quest for the best mixer for karaoke.
So, sit back, relax, and let's embark on this journey together. By the end, I promise you'll be well-equipped to make your next karaoke night an absolute hit!
Best Karaoke Mixers – Top Picks to Amplify Your Vocal Skills
From high-end to budget-friendly options, we've put a lens on each product's unique strengths, like audio clarity, ease of operation, and durability, to ensure a wide range of options for all our readers. Whether you're a karaoke enthusiast, a budding singer, or a professional artist, these mixers are bound to take your performance to the next level.
Not only were the technical specifications and overall sound quality critical elements in our selection process, but we also took into account user feedback and practical usability features.
1. Pyle PMXU43BT – Best Professional Karaoke Mixer
As a serious karaoke enthusiast, finding the right mixer for karaoke that ticks all the right boxes is crucial for a great karaoke experience. The Pyle PMXU43BT Professional Karaoke Mixer is one such device that promises high functionality and versatility.
At first glance, this mixer offers an array of connectivity options, which is a huge advantage. The USB/Flash Reader/MP3 compatibility means you can easily connect your computer, flash drive, or even a Bluetooth device, opening up a world of audio files for your karaoke nights. But the feature that truly sets it apart is the Bluetooth Wireless Streaming.
Say goodbye to the clutter of wires, and effortlessly stream music directly to the console unit from your iPad, iPhone, or Android smartphone. This hands-free operation can undoubtedly make your karaoke sessions more seamless and enjoyable.
The mixer's compatibility with popular music streaming apps like Pandora or Spotify adds another layer of convenience. Just imagine having virtually any song at your fingertips for your next karaoke session.
When it comes to sound quality and control, the Pyle PMXU43BT outshines its competitors. The Mic and Stereo Line Inputs support XLR and unbalanced 1/4″ plug with a +48V Phantom button. This makes it a breeze to connect a variety of microphones or instruments to the mixer, providing you with a wide array of sound options for your performances.
Also, with the ultra-musical 3-band EQ on all channels, you can adjust the balance of sound frequencies to your preference, ensuring a pitch-perfect karaoke experience.
During testing, the highly accurate LED Peak Level Indicator proved extremely useful in avoiding signal clipping, thus ensuring optimal sound quality throughout. The build quality of the Pyle PMXU43BT also deserves praise. The Rugged Steel Chassis, designed with sealed rotary controls, not only lends an aesthetic appeal to the device but also safeguards it from dust and grime.
One unique aspect of this mixer is its New Multi-Voltage Power Supply, making it a great choice for worldwide usage. Whether you're hosting a karaoke night in New York or Nairobi, this mixer has got you covered.
However, every product has its shortcomings. The Pyle PMXU43BT might overwhelm a novice user with its multitude of options and features. The device also lacks an onboard effects processor, which is a common feature in similar mixers at this price point.
Pros
A broad range of connectivity options, including USB, Bluetooth, and MP3 compatibility.
Bluetooth wireless streaming allows for a cable-free and clutter-free setup.
The compatibility with music streaming apps like Pandora or Spotify offers a diverse choice of songs.
Mic and Stereo Line Inputs and 3-band EQ on all channels provide excellent sound control.
Cons
Might be a bit complex for beginners.
Lacks an onboard effects processor, limiting the ability to add sound effects.
In conclusion, the Pyle PMXU43BT Professional Karaoke Mixer packs in an impressive array of features and proves to be a solid investment for those passionate about karaoke. It stands out in terms of connectivity, sound quality, and construction, although a few features are missed. Overall, this mixer brings a professional touch to your karaoke sessions and could be the device that takes your performances to the next level.
2. Yamaha MG06X Mixer – Best with Echo Effect
When it comes to karaoke mixers, Yamaha has always been a trusted name. The Yamaha MG06X stand-alone mixer justifies this reputation by providing a sturdy and high-quality karaoke experience.
One of the biggest selling points of the Yamaha MG06X is its stand-alone feature with 6 channels and no USB. This can be a real advantage for those who value simplicity and don't want the hassle of dealing with unnecessary cables and connections.
However, don't let this simplicity fool you. The Yamaha MG06X packs in powerful capabilities with its onboard SPX digital effects, adding flair to your karaoke performances.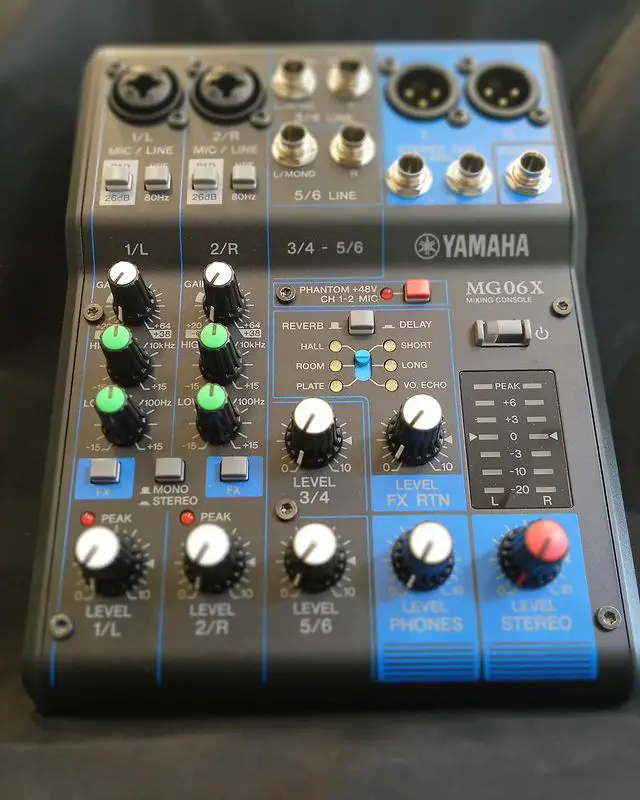 During our testing phase, the 48V Phantom Power was more than capable of handling a variety of microphones. This power supply feature ensures that you can plug in professional-grade condenser mics for your karaoke sessions, promising superior sound quality.
The Yamaha MG06X also shines in terms of sound control. Equipped with Discrete Class A D PRE Amps, the mixer promises natural-sounding bass with smoothly increasing highs.
The 3-band EQ and High Pass Filters further help in customizing your sound. During testing, we found these features particularly useful in tailoring the output to suit different genres of music.
What truly sets the Yamaha MG06X apart, however, is the 1-Knob Compressors. With just a single knob, you can control the dynamics of your sound, making guitars livelier, bass lines punchier, snares tighter, and vocals cleaner. We were genuinely impressed by the simplicity and efficiency of this feature.
The construction of the Yamaha MG06X is not to be overlooked either. The mixer boasts a powder-coated metal chassis, ensuring it can withstand the rigors of regular use. This durability, combined with LED Level Metering for easy monitoring of signal levels, contributes to the overall user-friendly experience that the MG06X provides.
Pros
6-channel stand-alone design offers simplicity and ease of use.
Onboard SPX Digital Effects enhance the sound quality.
48V Phantom Power supports a wide range of microphones.
1-Knob Compressors simplify control over sound dynamics.
Cons
Lack of USB connectivity might limit flexibility for some users.
Overall, the Yamaha MG06X is a great addition to any karaoke setup. It impresses with its simplicity, sound control capabilities, and durable construction. While the lack of USB connectivity may be a downside for some, the mixer's overall performance and reliability make it an excellent choice for anyone serious about their karaoke. It certainly brings a professional touch to your performances and promises to elevate your karaoke experience.
3. Pyle PDWM2135 – Best with Wireless Microphones
The Pyle PDWM2135 Karaoke Mixer with wireless microphones brings a new level of freedom and flexibility to your karaoke sessions. This mixer is designed for those who crave movement during performances and prefer a cordless, hassle-free setup.
Starting with the Dual Channel feature, the PDWM2135 offers an expansive frequency channel range, allowing for a greater depth of sound and fewer chances of interference. During our testing, this feature worked wonderfully, providing a strong and stable signal, which is crucial for any wireless system.
The Stable Signal and Clear Sound feature further accentuates the quality of this product. Offering a channel frequency range of 174~216MHz, the PDWM2135 guarantees high signal over noise ratio performance, capturing high-quality audio. This makes it an excellent choice for professional engagements, conferences, or simply a high-energy karaoke night at home.
One standout feature that impressed us was the Independent Mic Volume Control. This allows each performer to adjust the volume of their microphone independently, enabling a more balanced and enjoyable karaoke experience.
The Convenient Power Switch, LED Status Signal Indicator Light, and Dual Independent Antenna work together to provide a seamless user experience. The power switch offers easy operation, while the LED status light ensures you are aware of the mixer's condition at all times. The dual antenna design promises a stronger and more reliable signal reception.
While the device does provide connection to a mixer, amplifier, or speaker with a 1/4″ mono cable, the absence of a wider range of connection options might limit its flexibility for some users.
Pros
Dual Channel feature allows for stable, cordless performances.
Offers Stable Signal and Clear Sound for high-quality audio capture.
Independent Mic Volume Control ensures balanced vocals.
Convenient Power Switch and LED Status Signal Indicator Light for easy monitoring.
Cons
Might require some technical knowledge to optimally set the dual frequency channels.
4. The Rybozen K201 – Best with HDMI Input and Output
In the extensive panorama of karaoke mixer systems, the Rybozen K201 carves a niche for itself, being an impressively adaptable and easy-to-use offering. The manufacturer's specifications were bold, and our task was to meticulously examine whether the product indeed met these proclaimed standards.
A distinctive element of the Rybozen K201 is the array of connectivity options it offers. The system is equipped with HDMI and AUX In/Out compatibility, effectively spanning over a myriad of devices. Marketed as a "Karaoke Microphone for TV", it doesn't disappoint.
During our assessment, we interfaced it with a diverse set of TVs, home theater configurations, and additional sound systems. The mixer system remained consistently superior across all platforms.
We must highlight the K201's wireless microphone system, a salient feature, offering 2 handheld wireless microphones and 2 wired microphone inputs. This versatile arrangement empowers a dynamic range of performances. Furthermore, each wireless microphone comes with an individual volume control, facilitating impeccable sound equilibrium.
Not to be overlooked is the 100Ft Wireless Operating Range. True to the manufacturer's assertion, our test found this feature performed excellently. The liberty it affords to move, sing, and dance unrestrictedly indeed makes this karaoke system a crowd-pleaser at social gatherings.
Another admirable component is the adjustable frequencies for each UHF microphone, which undoubtedly enhances its anti-interference ability. The sound quality of K201 is commendable, made even more customizable with the provision of 5 rotatable dials to fine-tune the volume of music, mic, echo, and tone. This feature allows you to tailor the output, aligning it with your distinctive style and personal inclinations.
Now, let's talk about the pros and cons:
Pros
HDMI and AUX In/Out support extend its connectivity potential.
A blend of wireless and wired microphone inputs adds versatility.
The generous 100Ft wireless operating range significantly amplifies mobility.
Adjustable frequencies for each UHF mic bolster stronger anti-interference.
Superior sound quality customization is made possible by 5 rotatable dials.
Cons
The installation manual is poorly written
5. Rockville RockMix 5 – Best in Low Budget
As a seasoned karaoke aficionado, I'm always on the lookout for budget-friendly yet performance-packed options that could level up my karaoke nights. The Rockville RockMix5 w/USB Interface just caught my eye, and here's my take on it.
This little workhorse is a versatile 5-channel mixer that provides a robust array of inputs and outputs. It has combo jack (XLR and ¼") mic/line input which is perfect for connecting a variety of audio equipment, providing flexibility for your karaoke sessions. Whether you're connecting a professional microphone or playing music from a device, this mixer has got you covered.
My testing showed the echo effect, a really fun feature for karaoke, does a remarkable job of making you sound like you're singing in a large hall. It's adjustable, so you can customize it to match your personal preference or the vibe of the song. The British EQ circuitry, which claims to imitate the sound profiles of vintage mixers from decades past, adds a touch of warmth and authenticity to the audio output.
What sets RockMix5 apart is the built-in Bluetooth feature, which allowed me to stream music wirelessly from my phone during my testing. It's a liberating feature that modernizes the traditional karaoke experience.
Additionally, the USB interface is useful for those looking to record their performances or power the mixer directly from a laptop.
But it's not all roses. The mixer's solid steel construction ensures durability, but it also makes it a bit heavy, which might not be ideal for all users. And while the 18V phantom power feature is great for those using condenser mics, it might be an overkill for a casual karaoke enthusiast.
Pros
Echo effect and British EQ circuitry to enhance the overall sound quality.
USB interface for powering the mixer through a computer.
Comes with a Combo jack that accommodates a variety of audio equipment.
Simple design makes it attractive for beginners
Cons
18V phantom power may not be useful for all users.
Frequently Asked Questions (FAQs)
What is a karaoke mixer, and why do I need one?
A karaoke mixer is a device that allows you to adjust and balance audio signals, enhancing the overall sound quality during karaoke sessions. It offers features like echo effects, voice adjustments, and volume control. With a karaoke mixer, you can ensure optimal sound output for both the music and the vocals, giving you a more enjoyable and professional-sounding karaoke experience.
What should I look for in a karaoke mixer?
Key features to consider include number of channels, types of inputs/outputs, sound effects, and equalizers. Also, consider additional functionalities like Bluetooth connectivity or USB interfaces. For portability, check its size and weight. The mixer should also be durable and user-friendly.
Can I use any microphone with a karaoke mixer?
Most mixers accommodate a variety of microphones, including dynamic and condenser microphones, through XLR or ¼ inch inputs. However, it's always a good idea to check the product's specific specifications before purchasing.
Is an expensive karaoke mixer always better?
Not necessarily. While higher-priced mixers often come with more features and advanced technology, a less expensive mixer may serve your purposes perfectly well. It's essential to assess your needs and consider the features that are most important to you.
Can I connect my karaoke mixer to any sound system?
Generally, karaoke mixers can be connected to a variety of sound systems through various outputs like RCA, XLR, or 1/4″ outputs. However, you should always check the compatibility of your specific mixer and sound system.
Does a karaoke mixer improve vocal quality?
Yes, a good mixer can enhance vocal quality by allowing you to adjust the volume, echo, and tone of the vocals independently from the music. Some mixers also offer additional effects and equalizers that can further improve vocal sound.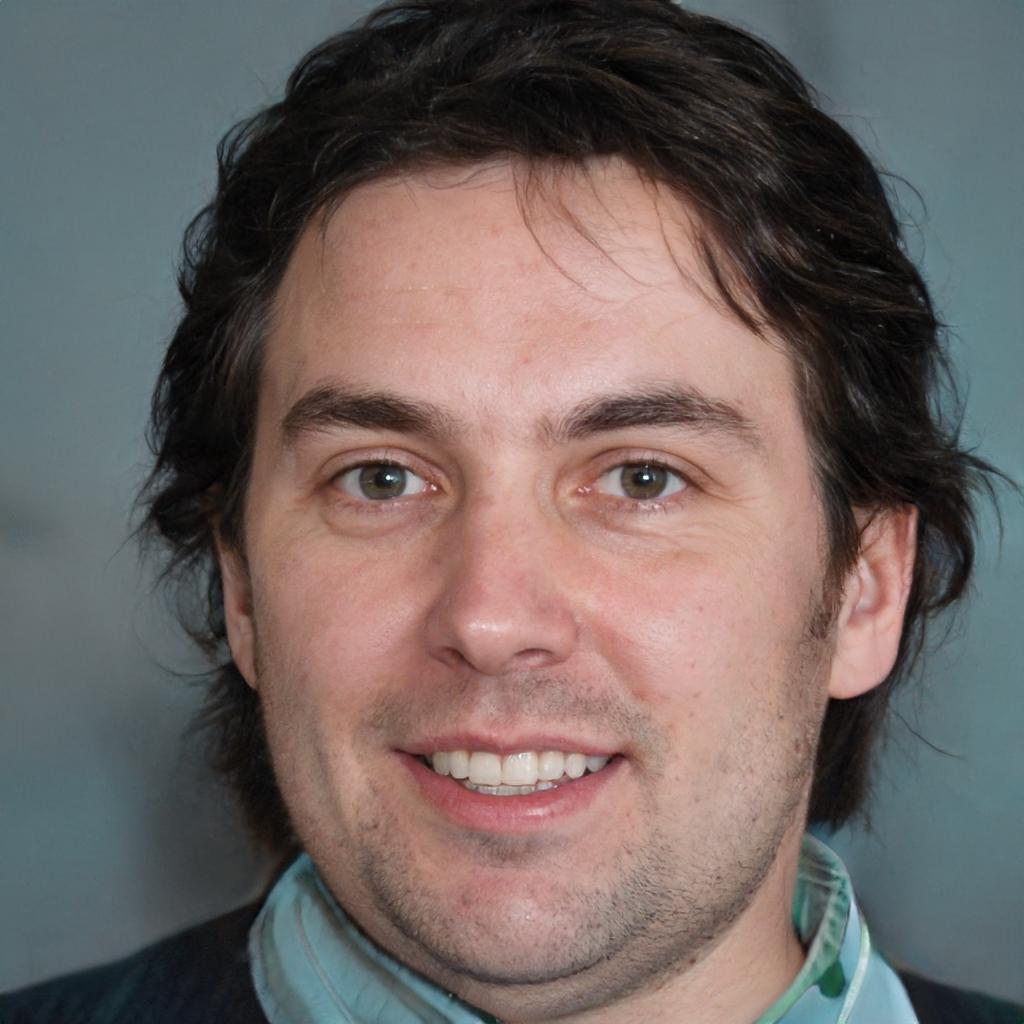 John Smith is the founder and CEO of Karaoke Machines Guru. He is a karaoke tutor and karaoke enthusiast and has been passionate about karaoke since he was a child. He also writes about karaoke-related tips, guides, and product reviews on this website.
He overlooks the whole website and makes sure that everything is running smoothly. Learn more!